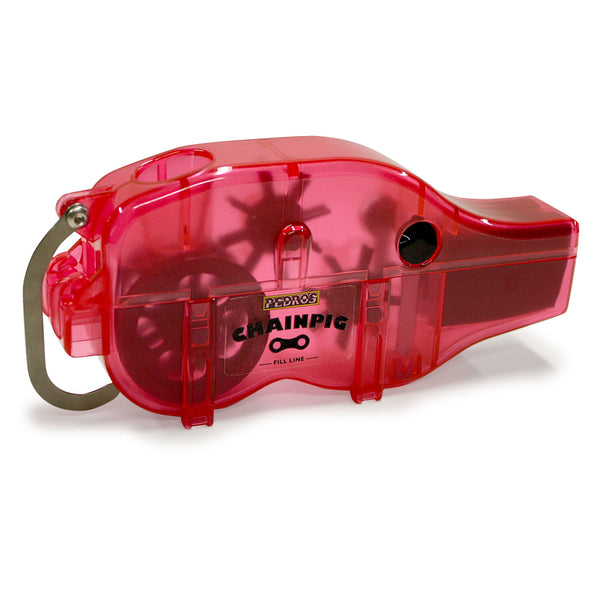 Shipping
US shipping only
Chain Pig II
Pig-Shaped Chain Grime Eating Machine
Pro-grade brushes and super absorbent sponge eat chain grime for breakfast, and are always hungry for more.
Surgically enhanced with stainless steel hardware and body sculpting, this pig is ready for epic drivetrain battles.
Innovative quick-lock closure and drag-free derailleur hook for easy use and hands-free operation.
Lean and mean, this hog requires only 1oz of degreaser.
Compatible with most single-speed and multi-speed drivetrains.
The Chain Pig II hands-free chain cleaner will change the way you think about cleaning your chain. Just one use with our latest solvent-free degreasers and you too will become a believer just as so many riders and skeptical pro mechanics have.
The Chain Pig II provides a simple, efficient, and effective way to clean the chain without making a mess or wasting valuable degreaser. Each element has been designed to outperform and outlast the competition.
The upper and lower bodies are made from super-strong, chemical and impact-resistant plastic and the Chain Pig II features stainless steel button arms, along with other improvements, to further increase durability.
The brush wheels, which have the toughest job in any chain cleaner, feature larger diameter bristles optimized for stiffness, effective cleaning performance, and superior durability.
The drag-free derailleur hook is a game-changer providing simple use, truly hands-free operation, and alignment allowing seriously high run speeds that increase effectiveness and efficiency.
The Chain Pig II has also been designed for efficient cleaning and degreaser usage. The system allows effective cleaning using only 1 fluid ounce of degreaser. The stage one brushes effectively pull degreaser up from the reservoir and onto the chain. The chain is then scrubbed from all angles and finally pulled through a large durable sponge that wicks excess and contaminated fluid from the chain minimizing mess and dripping. The sponge also wipes the chain, filtering larger contaminants, and returning usable degreaser back for more cleaning. Works on 1-13 speed chains. 
Tool diagram


Any tips for using the Chain Pig on a single speed?
The Chain Pig can be used on single-speed setups but may require some modified setup and usage techniques based on the lack of derailleur, chain position relative to the frame, and chain dimensions.
For the derailleur hook and chain position, you may be able to hook the derailleur hook around the axle next to the rear cog. When trying this, make sure the Chain Pig body isn't contacting the frame and being pushed out of alignment. Alternatively, the best solution is to remove the derailleur hook and hold the Chain Pig in place with your hand.
The next consideration is the size of your chain. Since single speed chains tend to be wider than multi-speed chains, you may find the Chain Pig runs with some extra resistance. The openings on Chain Pig body are 10mm wide and should allow most chains to pass through. The sponge may also have some issue with wider chains but can easily be removed if needed.