Apprentice Bench Tool Kit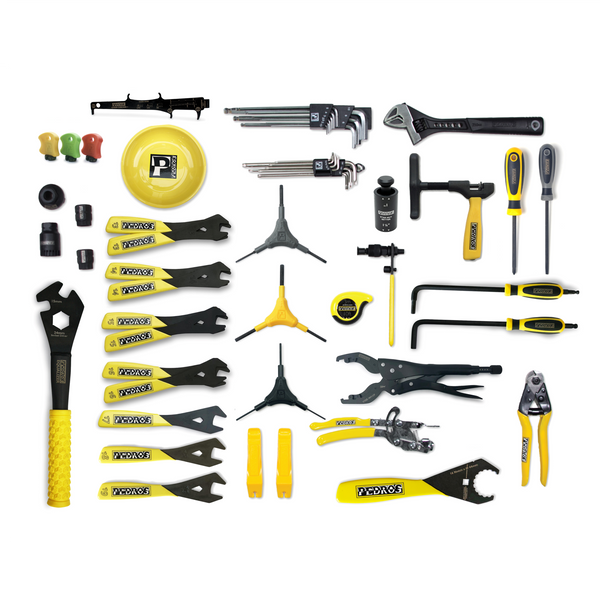 Shipping
US shipping only
Apprentice Bench Tool Kit
55-Piece Shop Tool Set
Drawing inspiration from our Master Bench Tool Kit, this extensive tool set includes 55 professional quality tools packaged simply to ensure the best possible value. You won't find a glorified fishing tackle box but instead a wide variety of professional tools ready to tackle installations, overhauls, and repairs. The perfect kit for new shop mechanics or home enthusiasts.
ABTK Content & Capabilities Guide PDF
Tool Kit Content Comparison PDF

Tool List:
L Hex Wrench Set - 9 piece
6mm and 8mm Hex Driver II
Y Wrenches - 2,2.5,3 hex, 4,5,6 hex, T10,T25,T30 torx
L Torx Set - 7 piece
Tire Levers – Yellow (2)
Pro Chain Tool 3.2
Equalizer Pedal Wrench II
Vise Whip II
Pro Cassette Lockring Socket
Campy BB & Cassette Socket
Splined Bottom Bracket Socket-3/8"
Freewheel Socket, Single Speed 4-Notch x 40mm

Bottom Bracket Wrench II, 16x44
Cable Cutter
Cable Puller
Universal Crank Remover w/ Handle
Phillips #2 Screwdriver
Flat Blade 5.5 Screwdriver
Star Nut Setter II
Magnetic Parts Tray
13mm, 14mm, 15mm, 16mm Cone Wrench (2 Pieces Each)
17mm, 18mm, 19mm Cone Wrench
Tape Measure
Pro Spoke Wrench - 3.23
Pro Spoke Wrench - 3.30
Pro Spoke Wrench - 3.45
Chain Checker Plus II
Adjustable Wrench-10"