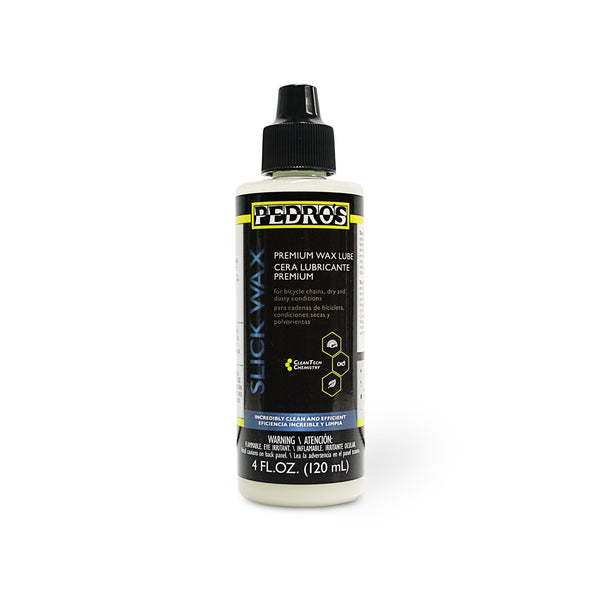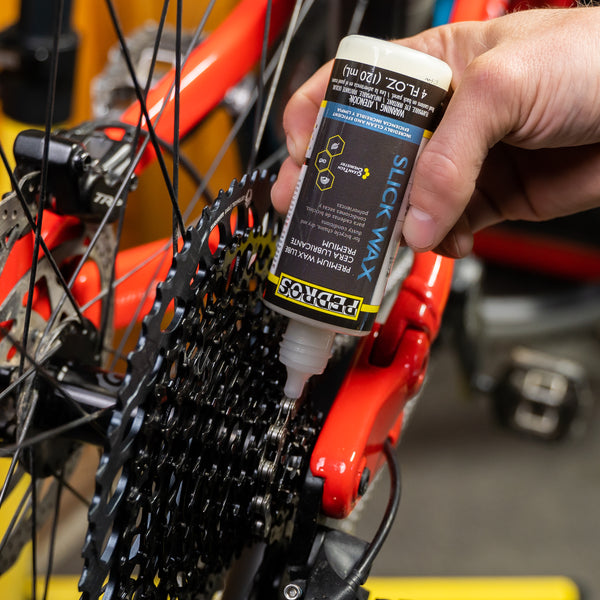 Shipping
US ground shipping only
SKU
4oz/120mL 6290041
32oz/946mL 6290321
Slick Wax
Premium Wax Lube
Incredibly clean and efficient in dry and dusty conditions.
Runs quiet, long-lasting, and repels water, dust, and grime.
Safe plant-based ingredients.
Formulated with Pedro's exclusive CleanTech Chemistry™, Slick Wax blends advanced wax and polymer technology for maximum cleanliness and elevated efficiency in dry and dusty conditions. Runs quiet, reduces wear, long-lasting, and repels water, dust, and grime.

CleanTech Chemistry™ is a proprietary approach to chain lubrication chemistry developed by Pedro's to achieve new standards of performance using ingredients that are safe for mechanics and riders. Chain lubes commonly feature toxic ingredients that are unsafe for the user and harm the environment. With CleanTech Chemistry™, there are no compromises. CleanTech Chemistry™ lubes share a similar base chemistry but each employs a unique lubricant package designed to optimize the chain surface coating characteristics and maximize performance for the intended riding conditions, while keeping the drivetrain exceptionally clean.
Usage
How To Get The Best Results From CleanTech Lubes:
Apply to clean chain 10 minutes before riding.* Store and apply lube between 50 &100º F.**
Shake bottle well before applying.
Apply liberally to rollers of chain while backpedaling. If applying to a dirty chain, wipe well immediately after first application, and then apply a second time.
Cycle chain for 15-20 seconds to distribute lube, then wait 5-10 minutes. CleanTech lubes use an alcohol carrier which delivers the lubricant package and then quickly evaporates.
For maximum cleanliness, wipe any remaining excess lube.
* May be applied to dirty chain but offer max performance and cleanliness when first applied to a clean chain. We suggest the Chain Pig chain cleaner used with Pig Juice or Degreaser 13. CleanTech lubes may be reapplied as needed for many rides before additional cleaning is required.
** Ingredients in CleanTech lubes may solidify below 50º F. To correct this, place bottle in warm room or sunny window. The lubes can be ridden well below 50º and will perform as intended if lube itself is above 50º when applied.
Slick Wax vs. Ice Wax
There are two main differences.  The first is that Slick Wax uses an alcohol carrier to deliver the wax lubricant package to the chain surfaces versus Ice Wax 2.0's water-based carrier.  In both cases, the carrier evaporates leaving the wax lubricant on the chain surfaces.  As you can imagine, the alcohol carrier in Slick Wax evaporates much more quickly.  You can apply Slick Wax right before a ride and it will be ready to give top performance.  With Ice Wax, the water takes more time to evaporate so we recommend applying it at least one hour or more before you ride to get the best performance. 
The second difference is in the wax lubricant package.  Both use only natural waxes but the types of wax are different.  The package in Slick Wax is a bit more advanced, leveraging multiple types of wax for specific purposes along with some new polymer technology.  This allows it to run incredibly clean in super dusty conditions while also providing incredible drivetrain efficiency (hence the "Slick" name).