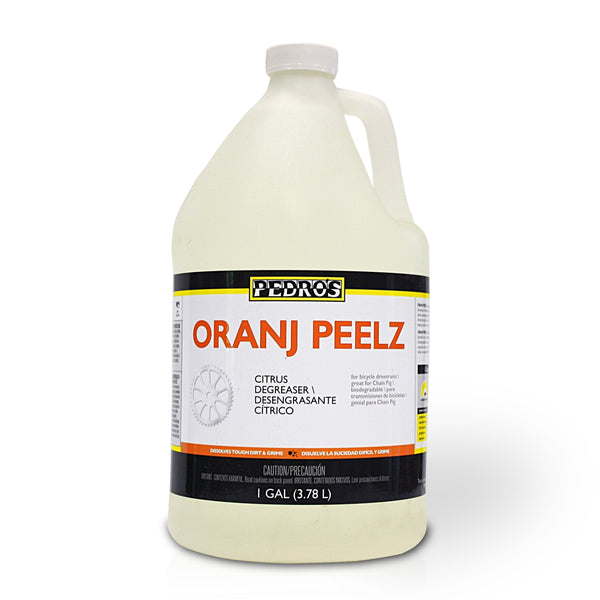 Shipping
US ground shipping only
SKU
16oz/473mL 6050161
1Gal/3.7L 6051281
Oranj Peelz
Powerful Degreaser with Unique Blend of Citrus Solvent and Surfactants
Unique citrus-based solvent/surfactant blend quickly dissolves away grease and grime.
Low surface tension allows superior penetration for complete degreasing.
Biodegradable, water-soluble formula easily rinses away.
Oranj Peelz has quickly and effectively degreased drivetrains for more than twenty years using a unique citrus-based solvent/surfactant blend. Designed specifically for bicycle drivetrain degreasing, the powerful, biodegradable formula penetrates into every surface and quickly loosens and dissolves even the toughest drivetrain grime. The water soluble formula rinses easily leaving surfaces residue-free.
Usage
Oranj Peelz General Use
Pour a small amount of degreaser onto a brush or rag and quickly scrub onto part to be degreased. We suggest using our Toothbrush or Part Cleaning Brush (Pro Brush Kit). Repeat until all surfaces are coated. Let sit for 3-5 minutes.
Continue scrubbing at parts, wetting brush with water as you go, until the dirt and oil is visibly combined with the degreaser.
Rinse well with water from a spray bottle or a hose using low to medium pressure.
Wipe dry with rag or shake water off of parts as needed. Let fully dry before applying lubricant.
Oranj Peelz in Chain Pig Chain Cleaner
For most chain cleanings, Oranj Peelz should be diluted with two parts water when used in the Chain Pig. It can be pre-diluted or both can be added to Chain Pig and will dilute during use. For extremely greasy chains, Oranj Peelz can be used at lesser dilutions up to full strength. More rinse cycles with water will be needed. Please refer to Chain Pig II User Manual.
Oranj Peelz Small Parts Cleaning
To clean small greasy parts such as bearings, chains, hardware, etc, Oranj Peelz can be used in a small water-tight container such as a plastic bottle, old water bottle, glass jar. Ideally the container will be just large enough that the part can sit flat on the bottom.
Place parts into the container and pour enough Oranj Peelz to coat surfaces of the parts.
Seal container tightly and shake the container vigorously for 1-2 minutes, changing direction occasionally.
Open container and add water until parts are fully submerged. Reseal and shake for another 30 seconds.
Pour out dirty liquid from the container being careful not to let the parts fall out. Refill with clean water, and shake for another 30 seconds to rinse parts. Repeat as necessary until water runs clean and foaming has stopped.
Remove parts from container and wipe dry.
Oranj Peelz Ultrasonic Tank Parts Cleaning
Oranj Peelz is a combustible liquid and is therefore not recommended for use in ultrasonic tanks.
Quick Compare: Cleaners
Cleaning strength
Removes
Safe for
Use on
degreasers
.
mud/grime
grease/lube
.
metal only
all materials
.
drivetrain
entire bike
Orange Peelz
.
.
.
.
.
.
.
.
.
.
.
Degreaser 13
.
.
.
.
.
.
.
.
.
.
.
Pig Juice
.
.
.
.
.
.
.
.
.
.
Green Fizz
.
.
.
.
.
.
.
.
.
.
Bike Lust
.
.
.
.
.
.
.
.
.
.
Learn more about Pedro's cleaners