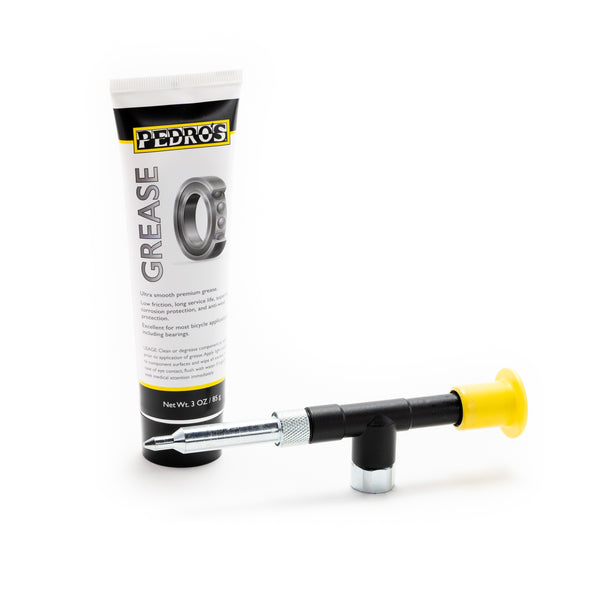 Shipping
US shipping only
Grease With Injector Kit
Compact Pistol-Grip Grease Gun with Grease Tube
Ergonomic, one-handed operation for precise, mess-free grease application.
Ultra smooth premium grease.
Low friction, long service life, superior corrosion protection, and anti-wear protection.
Excellent for most bicycle applications including bearings.
Keep your hands clean and grease-free by using the Pedro's grease injector. Ergonomic shape ensures easy, one-handed operation and precise, mess-free grease application. Includes 3oz of Pedro's Grease, a premium, all-purpose, NLGI #2, extreme pressure, lithium complex bicycle grease. Pedro's Grease is excellent for bearing applications, assembly tasks, threads, and component interfaces. Formulated to have an excellent dropping point, superior water resistance, and outstanding structural stability over a wide range of temperatures, Pedro's Grease is the grease of choice for those that demand the best.
General Instructions
Clean or degrease component as needed prior to application of grease.
Apply light coating of grease to component surfaces and wipe all excess.
Pedro's Grease is recommended for all bicycle applications including wheels and bearings.
Injector Instructions
Before attaching the grease tube to the injector, make sure grease is present at the tip of the tube or even starting to come out of the tube.

Screw the grease injector onto the grease tube. Do not overtighten.

Next, squeeze the grease tube from the bottom (like a toothpaste tube) to push grease from the tube into the injector to replace all air in the injector with grease. As you are pushing grease from the tube into the injector, squeeze the trigger of the injector to determine if the grease has moved into the injector. The injector will become harder to squeeze once it is moving grease.

Once grease is in the injector, squeeze the trigger slowly until grease starts coming out of the trigger tip. Pause between each squeeze of the trigger to allow the grease to move. Since grease is very thick, it takes time to move after air pressure is applied. If you squeeze the trigger many times in a row very quickly, it builds up pressure and leads to an uncontrolled stream of grease (makes a mess) and may create air pockets which will disrupt the flow of grease requiring you to start back at step 2.

Once grease has fully filled the space within the injector, you should have consistent performance. After extended use, some air pockets may occur as the tube empties. If this happens repeat these steps again to refill the injector and remove air pockets.